On respect for other's freedom and on love of the spiritual father ( 17.03.2009 )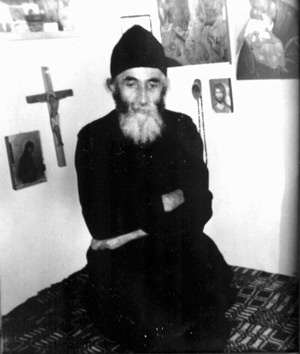 - Elder, is it possible someone to intentionally hide his sin from his spiritual father?
- It is, but even if the spiritual father knows about the sin of his spiritual child, or he has only some presentiment about that, it is not good or beneficial to say it. I often see something in the inner struggle of someone, I suppose or know what he has done, but I say nothing until he discloses that to me, because of my respect to him. I consider such attempt of saying that to him as a violence and shameful act, unless he discloses that to me. This is a case sensitive, because it may bring him in an inconvenient position. How can you force someone to something? There is freedom! Besides, if I realize that he is in a immediate danger without having any chance to get help from some other side, or he is in a lack of knowledge and he will break his own nose or he will destroy himself, then I will strive to find the way how to tell him something.
It is better to give the other a chance to understand where he has made a mistake, but only if he asks for that, so he may strike his "old man", because it hurts less. You see, when a little child falls and hurts itself it cries less than if it was pushed by some other child.
If a man commands to the other to do something, the one who listens such order has to be humble, and the one who gives the order must be ten times more humble, and he himself to employ the thing he requests from the other. I will make one and a half step in order to tell the other to make one step, and even then I will think a lot if I would do that.
Indeed, such action you may undertake only with the one who you know very well. The spiritual father will appraise which rights he is giving to the other and how big responsibility he takes about the other and will act according to that. If the spiritual father takes the responsibility of the soul, then it is allowed to control it, but only with discernment, of course. It doesn't help if you pretend to be a teacher to the other and control his habits and he didn't authorise you to do that. It's the same as when someone comes into my cell and messes it up, throwing the icon lamp here, the bed in some corner, hanging the prayer-rope in some other place and not asking me anything…
The love of the spiritual father to the one who confesses to him
The graceful spiritual father loves the soul and suffers for it, because he is aware of its precious value. He helps the soul in its repentance, releases the soul through confession, sets it free from the burden and leads it to paradise. The spiritual father is called "father". Therefore, the spiritual father should endeavour to be a real father: to advice and direct with divine love and tenderness. He has to be able to put himself in place of the one who he confesses, and to endure his sufferings, so that the one who confesses may see his own pain in the face of his spiritual father. This is particularly important nowadays, as people feel a great need of little fresh water, rather than vinegar. Many people, because exposed to a strong influence of the devil, hardly accept any spiritual advice or reproach. Therefore, the reproach of the spiritual father has to be a product of love, he must point out the sin very carefully. With a smile or through humour.
Love advices, and the passions of the soul reveal the man. When love fails, the reproach can be told in a nice manner, but the other resists from inside, because feels a human element in our behaviour. But if he is reprimanded with compassion and love, the other may become sad, but deep inside he is not hurt, because he feels our love.
I know a spiritual father who is rather fat – he has that kind of constitution, and maybe he doesn't pay attention enough on taking the food – but do you know how much that man cares and suffers for the other, how much he cares about those who suffer. He possesses humility because he says he's not struggling, but with it he possesses great goodness, so that many of them feel bigger rest in him, than in some spiritual father who is struggling.
The spiritual father who is not ready to go to the hell even, on behalf of the love to his spiritual children, is not a spiritual father at all.
Elder Paisios from the Mount of Athos