On Fasting, dispassion and purity ( 04.03.2009 )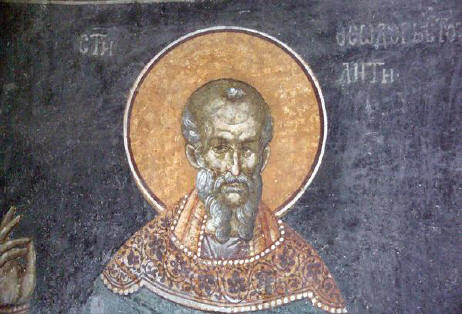 Brothers, the fast is the renewal of the soul, as the Apostle says: when the body becomes weak and thin from the accomplishment of fasting, the soul renews itself day by day, it becomes beautiful and shines with beauty, which has been given to us from God, in the beginning. When the soul is purified and adorned through fasting and repentance then God loves it too, and will live within it, as He says: If anyone loves me, he will keep my word; and my Father will love him, and we will come to him and make our home within him. (John 14, 23)
Therefore, if the diligence of fast and his grace is so important that we become God's home than we should welcome him with great happiness and joyfulness and not to feel saddened because we are eating the poor food, knowing that our God Jesus Christ, in the dessert, blessed five loafs of bread and fed five thousand people. He could have commanded different food to appear, however He showed us an example of abstinence and how to take care of things that are necessary.
Fasting seems difficult, but if day by day we grow cordial, with God's help it will become easy. Furthermore, if we want our fast to be real, than beside the abstinence of eating we should obstinate from every spiritual and physical sin. We should be careful with laziness and negligence, when it is about our pray principle and church services, but most of all we should be careful of vanity, jealousy, hate and fights, because those are the hidden passions that kill the soul. We should be careful with wickedness and selfwill; we should not attach to things and fulfill our own will. Because, to the devil there is nothing more precious than a man who does not ask the other and who does not consult with someone who can show him the way to good. The self-loved man gets easily cheated by the devil…
We should help each other; because one is weak and other is strong. Do not argue but do only good. We should be kind, peaceful, amenable, merciful, humble and obedient, fulfilled with mercy and good deeds. Let God's peace be within our hearts and minds and bestow us in the Kingdom of Heaven, in Jesus Christ our Lord, to Whom belongs glory and power, the Father and the Son, and the Holy Spirit, now and forever and to the ages of ages! Amen!