"Saint Theodosius" monastery printing house in Bansko ( 19.05.2005 )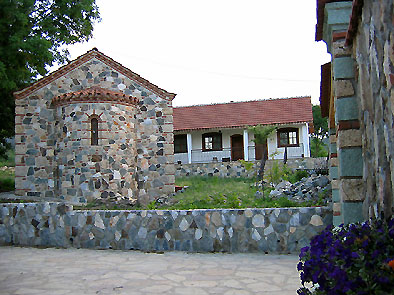 Since November last year, in the Bansko monastery of the Holy Forty Martyrs of Sebaste, the "Saint Theodosius of Sinai" printing house with a bookbinder's shop has been actively working. The monastic brotherhood, which in its monastic struggle here has undertaken the training in the printer's skill as well, with attention and zeal has dedicated itself to the daily process of making diaries, books, notebooks, calendars, brochures, catalogues, and numerous other office materials, which cater for the monastery economy, and whose contribution for its part represents a valuable input in the publishing activity of the diocese / church edification.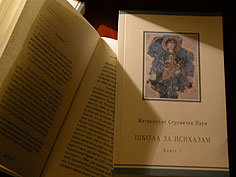 The first book printed in the Bansko monastery printing house is Škola za Isihazam (A School of Hesychasm) Book 1 by Metropolitan Nahum of Strumica, an edition of the Veljusa monastery of the Most Holy Theotokos Eleusa; the period of its wider distribution is linked with the beginning of the Honourable Fast of 2005 AD.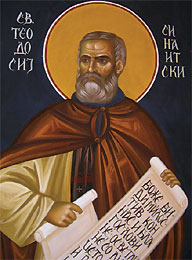 The saint-patron's name, the great Macedonian revivalist Theodosius the Sinaite, indicates that the monastic printing house in the Bansko monastery of the Holy Forty Martyrs of Sebaste follows the tradition of the renowned revivalist Macedonian printing houses active in Macedonia. The first was opened at the time in the monastery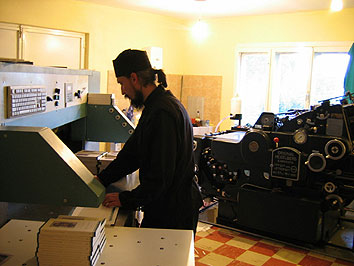 of Saint Nahum at Lake Ohrid (1710 AD), but it printed only in Greek, although the monks in the meantime made the manuscripts in Slavonic; the second is linked with Mount Athos (it also printed in Greek and its activity was being hindered); the third, of Saint Theodosius the Sinaite, opened in Thessalonica in 1838 AD, printed in Macedonian and contributed greatly to the idea of constitution of a single national language; the fourth, formed on Mount Athos in the thirties of the 19th century by 'the much enlightened archimandrite' Anatolius from the Athonite monastery of Zographou, printed in Macedonian, yet was soon after prevented from its work… The printing house in Bansko follows the effort of the three generations of Macedonian revivalists, particularly the first one—which drew its strength from the life-giving soil of church literature.
Today the "Saint Theodosius of Sinai" printing house and bookbinder's shop in the male monastery in Bansko has the opportunities to make all kinds of products in black and white, two-coloured, and colour print, with binding in leather hardback, textile fabrics, man-made fabrics, and hard paperback.
Its effort helps the renewal of monastic life and spiritual revival undertaken by the Macedonian Orthodox Church, for our salvation.