In the monastery of the Most Holy Theotokos Eleusa in Veljusa ( 12.08.2005 )
On the day of the holy Apostles Silas, Silvanus, Crescens, Epaenetus and Adronicus, Metropolitan Nahum of Strumica celebrated Hierarch's Divine Liturgy in the Veljusa monastery of the Most Holy Theotokos Eleusa.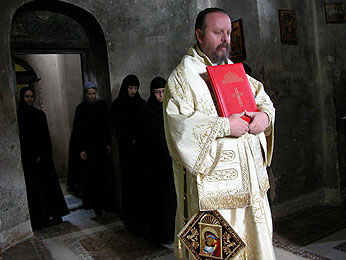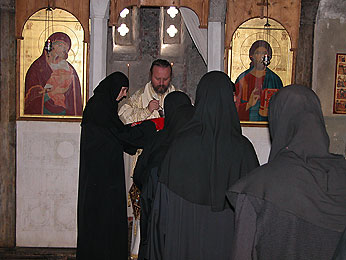 The feeling of thanksgiving in moments of temptation is a power that drives away the attacks of temptations.
He who desires to defeat temptations without prayer and patience will not succeed in anything. Instead of driving them away, he gets all the more entangled in them.
When attacked by a temptation, do not examine the reason nor the person through which it came, but rather see to it that you endure it without being overcome by harmful sorrow or fratricidal grudge-bearing at that.