Vodoča, Hierarch's Divine Liturgy ( 27.02.2005 )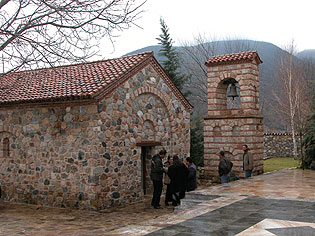 In the chapel of the Venerable Gregory Palamas and Joseph Spilaioti in the female monastery in Vodoča today Metropolitan Nahum of Strumica celebrated Divine Liturgy.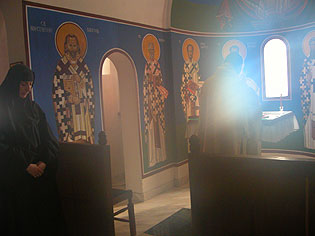 "On every excellent day, on every feast day, the devil with his temptations creates problems that cause distress. He desires to ruin our joy, to bring clouds to the festive brightness, to leave no heart unwounded by grief.
That proceeding love – offering oneself to others – leads us toward finding ourselves. We discover not only our own being but also the being of every other human. And if we possess this love – however much far we are it will take us to Paradise. Whereas if we do not possess it – even if we are at the very gates of Paradise – our lack of love, which in fact is "hatred", will prevent us from entering and make us being thrown far away." (Vasileios Gondikakis, Parable about the Prodigal Son)