The Dormition of the Theotokos ( 28.08.2009 )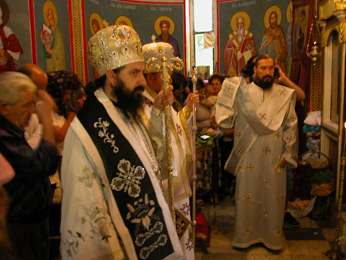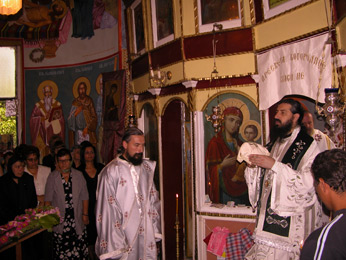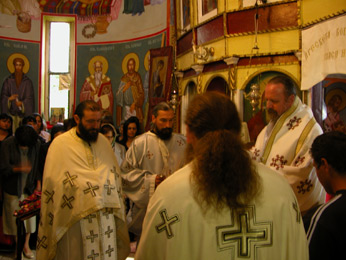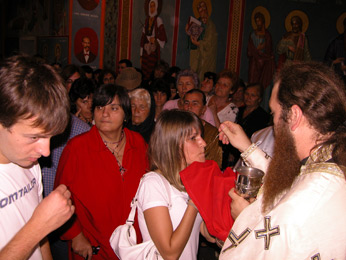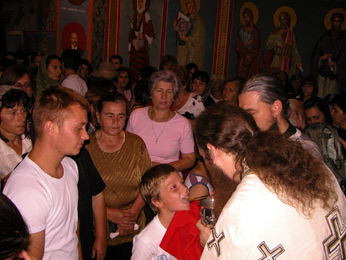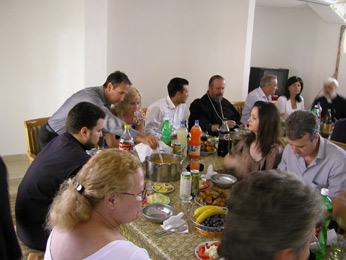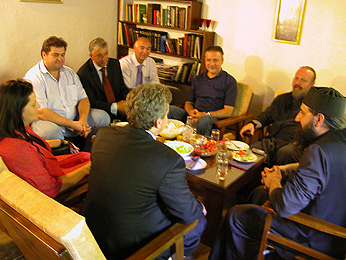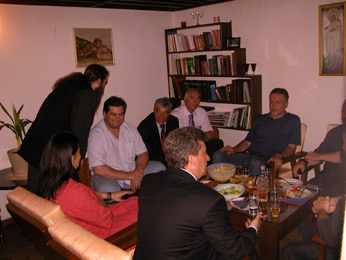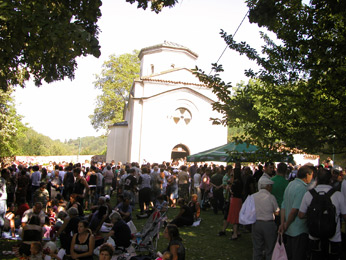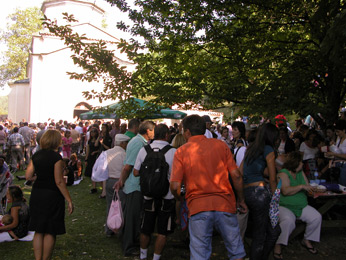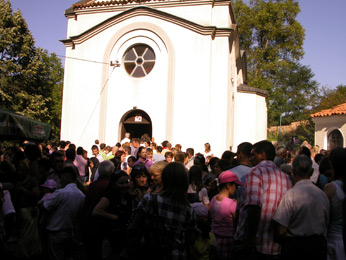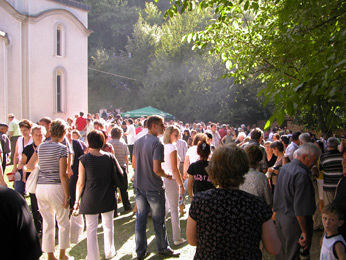 Martha and Mary (part three)
Now it happened as they went that He entered a certain village; and a certain woman named Martha welcomed Him into her house. And she had a sister called Mary, who also sat at Jesus' feet and heard His word.
But Martha was distracted with much serving, and she approached Him and said, "Lord, do You not care that my sister has left me to serve alone? Therefore tell her to help me."
And Jesus answered and said to her, "Martha, Martha, you are worried and troubled about many things. But one thing is needed, and Mary has chosen that good part, which will not be taken away from her" (Luke -42).
As I have told you on other occasions, children: Martha portrays the first stage of spiritual growth following repentance, which, as you know, is the purification of the heart from the passions—the practical struggle; whereas, Mary represents the higher stage of spiritual growth—the illumination of the mind and mind-and-heart prayer i.e. contemplation. If we check now the stage of our personal spiritual growth cursorily, merely through the quality of our prayer, it is certain that almost every one of us will recognize oneself in Martha. Simply, aware that we do not have the gift of the mind-and-heart prayer, we will comfortably place ourselves at the first stage, the stage of purification of the heart from the passions. Yet, is that how it is?
What quality of prayer should we have in line with the first stage of our spiritual development? Let us recall: it is the prayerful state of the mind when, in the spirit of repentance because of our distance from and unlikeness with Christ, assisted by our will and desire, we collect our mind in the words of the prayer, "Lord Jesus Christ, have mercy on me (us)". We can say the prayer out loud or to ourselves—with the inner voice, yet we cannot follow it from inside our heart. We struggle to nail our mind on the cross of the prayer words and do not let it wander and be distracted, allured by the world and our passions. This struggle demands great effort and this is the crucifixion or Holy Friday for the mind. Pure prayer is a herald at the end of this prayerful state and a transition to another.
The second question raised now is the following: does our prayer, during our prayer rule, have the previously described quality, or our mind, incapable to concentrate, despite our declarative will to pray, gets distracted through various thoughts and fantasies—that is, do we have pure, concentrated prayer or not? We can raise even a worse question: do we regularly pray and fulfill our prayer rule? This is a question for them who for several years now have been going to church and think they have achieved something and so they do not need the prayer rule anymore. Linked to this is the following question: will we, despite this state of ours, still with a peaceful conscience place ourselves at the first stage of spiritual development?
The third essential question that imposes itself reads: why cannot we collect our mind in the prayer words, why do we not have pure prayer? Children, to be brief and not quote some of the Fathers, their answer to this question is quite clear: the one who has abandoned the practice of obedience cannot have concentrated or pure prayer. How and when that practice of obedience was abandoned, each faithful warrior of Christ will check on his own initiative with his spiritual father. To tell the unfaithful, only the pearl will be cast before swine. The lord has said this, not me.
The mind that has dropped out of the practice of obedience has also dropped out of the process of healing. Such a mind cannot be humble, collected in the prayer, and illumined. And, if instead of healing our passions we only nurture them through their satisfaction, then we cannot speak of purification of the heart from passions or of us being at the first stage of spiritual growth. Therefore have the Fathers, along with the division of the stages of spiritual growth into purification, illumination, and deification, make the following division: a mode of life contrary to nature, according to nature, and above nature. By the term 'mode of life contrary to nature' they wish to say precisely that it is a state in which instead of healing and transforming our passions into virtues, we satisfy them and constantly nourish them.
Let us sum up, children: we deceive ourselves the most when we lead a spiritual life without obedience and without practice of prayer. Any kind of spiritual feat or rank or name, in that case, fills us only with the false peace that we live spiritually, while disobedience and lack of prayerful struggle imperceptibly lead us into all the greater delusion and make us demon-like. How do we recognize this state? Firstly by the distracted prayer (not to mention the lack of tears), by the omission of prostrations from our prayer rule, by the desire for human glory, by the gossiping, by the judging and condemnation of our fellowmen, and finally, by the eventual abandonment of the prayer rule, and even by the unrestraint in the base physical passions.
What is the remedy? To repent or more precisely to enter into obedience and practice collecting or concentration of the mind in the prayer words. Collecting the mind just as any other skill is achieved with practice and continuous repeating. Only in this case will God help us as well. If you also want a practical patristic counsel in the practice of collecting the mind, I will give you one: divide your prayer rope of a hundred knots into ten by putting one bead after every ten woolen knots; after every ten prayers said without distraction, pass the bead and continue with the following ten prayers; if you do not say the ten prayers without distraction, go back with your fingers to the first woolen knot after the previous bead and never continue further without ten prayers being said purely and without distraction.
Monastic life is meaningless without obedience and without 24/7 practice of prayer. Only in obedience and in continuous practice of prayer are new inner and outer areas and happenings revealed to the monastic. Only such a monastic life is full of meaning, life-bearing, new, interesting, creative, loving, joyous, free, light-bearing, God-bearing. Children, we'd better start to learn from the relatively brief moments of prayerful concentration to absorb eternity all the more, rather than through our daily life, which seems to us it would last forever, melt away and be lost as persons with a mind scattered in what is temporary.
Afterwards no one could take away from us the gift of the mind-and-heart prayer—unless we ourselves give it away, and that is simply impossible already at the stage of illumination. It is particularly impossible for this to happen at the stage of deification, just as it was impossible for the death and corruptibility to keep bodily in the grave Her Who gave birth to Him Who conquered death with His resurrection.
Metropolitan Nahum of Strumica
(as recorded by the sisterhood)