Divine Liturgy ( 25.11.2007 )
Today, Metropolitan of Strumica Nahum celebrated Divine Liturgy in the monastery of Saint Maximus the Confessor and Saint Gregory Palamas in Star Dojran.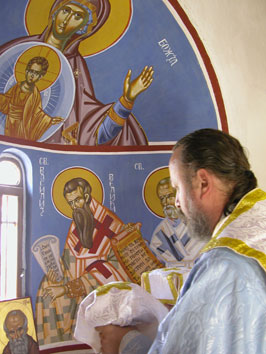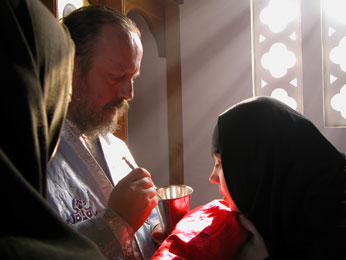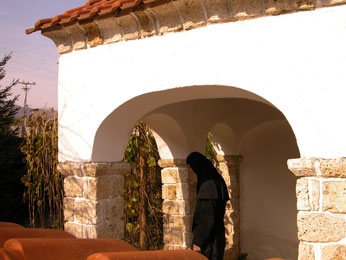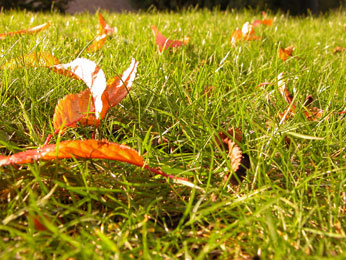 Then He spoke a parable to them, saying: "The ground of a certain rich man yielded plentifully. And he thought within himself, saying, 'What shall I do, since I have no room to store my crops?' So he said, 'I will do this: I will pull down my barns and build greater, and there I will store all my crops and my goods. And I will say to my soul, "Soul, you have many goods laid up for many years; take your ease; eat, drink, and be merry."'
But God said to him, 'Fool! This night your soul will be required of you; then whose will those things be which you have provided?'
So is he who lays up treasure for himself, and is not rich toward God." (Luke 12:16-21)
After the reading of the Gospel, the Bishop said:
Our entire life is a gift of God. Poverty is a gift of God, when the poor man with humility and patience gives thanks to God for it and recognizes this gift. Wealth is likewise a gift of God, when the rich man with humility and patience ministers to the poor with his treasure and in this manner gives thanks to God for it and recognizes this gift. If people recognized God's gifts and if they treated those with humility and thanksgiving, God's gifts would serve as a means of building up and accomplishment of our union in the Godman Christ—our greatest gift of God—and they would serve as a means of our salvation. In other words, only in this way can we give thanks to God when we offer to Him His gifts in return: Offering You Your own of Your own—because of all and for all. The active attitude of thanksgiving from our whole life is fulfilled communally with our participation in the Holy Eucharist (Thanksgiving) of God's Church.
Nonetheless, how does the rich man in practice "manage to store up" goods only for himself instead of being rich toward God, i.e. how does he not offer his treasure as a gift of God concretely to God? In order to explain this negative example, we will make use of another negative instance from the event of the Dreadful Judgment:
"Then He will also say to those on the left hand, 'Depart from Me, you cursed, into the everlasting fire prepared for the devil and his angels: for I was hungry and you gave Me no food; I was thirsty and you gave Me no drink; I was a stranger and you did not take Me in, naked and you did not clothe Me, sick and in prison and you did not visit Me.'
Then they will also answer Him, saying, 'Lord, when did we see You hungry or thirsty or a stranger or naked or sick or in prison, and did not minister to You?'
Then He will answer them, saying, 'Assuredly, I say to you, inasmuch as you did not do it to one of the least of these, you did not do it to Me.' (Matt. 25:41-45)
We see that the Lord identifies Himself (even the most) with each and any sufferer. Therefore whenever we help with our wealth one of these least brothers of Christ who suffer, we do not lay up treasure for ourselves but we are rich toward God.
All of the above-written principally applies first and foremost to the people who live and work in the world. To a monastic, as someone who is dead to this world, principally applies another rule. The monastic's duty is to give food and drink, abode and clothes, to visit and to minister to Christ in his heart. Naturally, in order to accomplish this, he must first purify his heart from the passions, to come to know the 'place' of the heart, to discover the Heavenly Kingdom within him and stand up before the King of Glory, Who was crucified for us and our salvation.
This being rich toward God takes place at the three stages of spiritual development: at the stage of purification of the heart from the passions, at the stage of illumination, and at the stage of deification.
At the first stage, he is being rich toward God who purifies his heart from the passions—that is, he who transforms his passions into virtues and multiplies the same. Certainly, this process must take place within the frames of concrete and absolute obedience, i.e. when with the free submission of our mind under our spiritual father's mind we stop feeding the passion of the rational part of the soul (mind)—pride, vanity, high self-esteem.
At the second stage, he is being rich toward God who suffers in the struggle for fulfillment of Christ's words, "love your enemies", and keeps his mind several hours a day prayerfully buried in his heart (even during the Holy Liturgy), seeking only Him not His gifts.
At the third stage, the children of God are revealed the mystery of the words of their Heavenly Father that all Mine is yours, and are revealed the catholic dimension of the call of God's Spirit within their hearts, "Abba, Father!"—they are revealed what the holy elder Sophrony names 'weeping for all Adam'.
Lord, have mercy…!
(as recorded by the Sisters)