Divine Liturgy on the day of Saint Andrew, a Fool for Christ ( 15.10.2007 )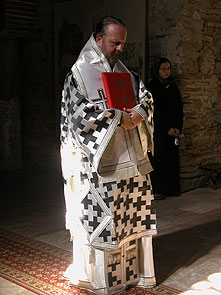 Today, in the church consecrated to the Protection of the Most Holy Theotokos, in Vodoča monastery dedicated to the same feast, Metropolitan Nahum of Strumica celebrated Divine Liturgy in honour of Saint Andrew, a Fool for Christ. Commenting on the gospel reading of this day, His Eminence said: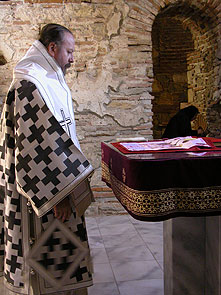 "'Therefore I say to you, her sins, which are many, are forgiven, for she loved much. But to whom little is forgiven, the same loves little.'
Then He said to her, 'Your sins are forgiven.' (Luke 7:47-48).
My children, we all read the Holy Gospel and to all of us are familiar these and similar points in it where it reads, for example:
- Forgive, and you will be forgiven!
- Do not judge, and you will not be judged!
- Do not condemn, and you will not be condemned!
- Love your enemies!
What do these and similar gospel counsels and truths have in common: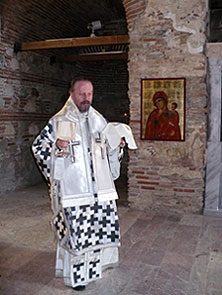 When one forgives, when he does not condemn or when he has love such as shown by the sinful woman in the Gospel or as we read in the Life of Saint Andrew, a Fool for Christ, that is only a testimony that God's grace resides within him. A Christian in whom God's grace abides cannot possibly lie and steal, not forgive and hate, backbite and condemn or refuse to humble himself before what the Holy Spirit says and does through the Holy Fathers of the Church. These are all deeds of them from whom grace has withdrawn and who are under the influence – we know whose.
What the sinful woman or Saint Andrew does seems insane and unacceptable to some?! What the Holy Fathers-ascetics of the Church say out of experience seems insane and unacceptable to some?! Will we reject it as unacceptable?! No, we – if we are Christians – might not have the strength or more precisely might not want to practice the same feat, but we cannot but humbly accept it and glorify it. "Let no one deceive himself. If anyone among you seems to be wise in this age, let him become a fool that he may become wise. For the wisdom of this world is foolishness with God. For it is written, 'He catches the wise in their own craftiness'; and again, 'The Lord knows the thoughts of the wise, that they are futile" (1Cor. 3:18-20).
The presence of grace in one's heart is an indicator that this man is loved by God and that he himself loves God and his fellowmen; that this man is forgiven by God and that himself he forgives all those who wrong him; and, that this man is not condemned by God and he himself condemns no one but himself for all the evil happening to him and to the whole world. These are deeds of them whose heart is sufficiently purified from passions and in whose heart Baptismal grace has manifested itself. These are deeds of them who know the place of the heart and whose mind resides in prayer inside the heart. Grace is the foundation and source of all virtues. Grace in our hearts manifests itself as forgiveness, non-condemnation, and love.
God always forgives us and loves us. Whereas, when we do not forgive, when we co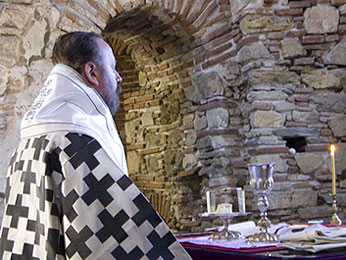 ndemn or when we do not love, we reject God's grace and God Himself, we also do not forgive ourselves and condemn ourselves. In fact, there is no greater condemnation for one than to estrange himself from God's grace and remain out of it. Therefore, we ought to exert ourselves to forgive, exert ourselves not to condemn and exert ourselves to love all, even our enemies. Now, do not get me wrong, we do not feel this all, we exert ourselves instead. That is the ascetical feat of forgiveness, non-condemnation, and love of the ones who are at the first stage of spiritual life. It is what the holy Hagiorite Elders say: when grace hides itself from you, live and act just the same as though you had it, the same as when it openly assisted you in your struggle. At the second stage the struggle stops being mostly ascetical and becomes mostly graceful.
Let us not forget: it is not that we loved God, but He loved us first…"