Filial Relationship – The Mystery of Obedience ( 23.09.2007 )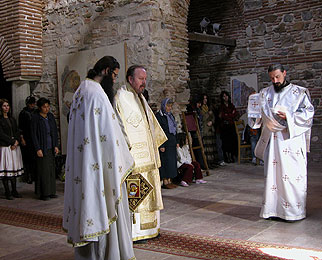 Today, in the monastery of Saint Leontius in Vodoča, Metropolitan Nahum of Strumica celebrated Hierarchical Divine Liturgy. After the Gospel reading, His Eminence delivered a sermon, in which he said:
"A matter of spiritual life and spiritual death for us Christians is our consent to and our co-action with God's providence for us, with God's will for us, with God's word for us, with God's deed regarding us. We have talked about this before, that from the very moment the Canaanite woman had accepted humbly and with gratitude – which means with genuine obedience – Christ's providence, will, word, and deed, she had immediately received God's grace and Christ Himself. From that moment on her prayer had acquired another value before the Lord: And her daughter was healed from that very hour (Matt. 15:28). As the Holy Fathers say, to him who fulfils God's will, God fu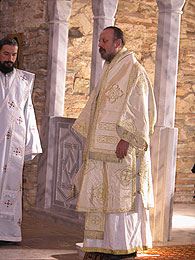 lfils his, too. However, the thing I would like to draw your attention to in today's sermon, the thing from which we ought to draw a moral, is something else:
Firstly, although certain things that happen against our will in our life seem bad to us, we as Christians should have faith and knowledge that whenever we accept these humbly and with gratitude to God, eventually He will alter them to our own good and our salvation in Him. You remember the much-suffering and righteous Job, what he said after all the misfortunes that had befallen him? 'Naked I came from my mother's womb, and naked I will depart. The Lord gave and the Lord has taken away; may the name of the Lord be praised' (Job 1:21). And, what did he answer his wife after the dreadful disease he suffered? 'Are you still holding on to your integrity? Curse God and die!' – she said to him. 'You are talking like a foolish woman. Shall we accept good from God, and not trouble?' In all this, Job did not sin in what he said (Job 2:9-10).
Secondly, we do not enter the Church for the sake of good health or success in our work, or for power and money, not even for the sake of our salvation – it is for the sake of Him. For, whenever we go into the Church due to something other than Him, and whenever we seek in the Church something other than Him (be it even salvation) – we are in fact building with God a hireling's instead of a free, loving and son's (personal) relationship.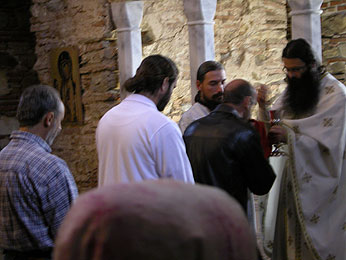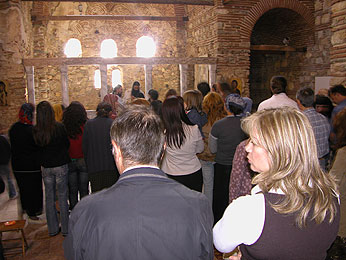 Thirdly, having had exactly such active faith and knowledge out of experience and having had exactly such unconditional love, the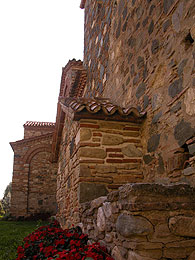 Canaanite woman did not break off her filial relationship to God because Christ's attitude towards her had at that moment not been in line with her expectations; on the contrary, apparently that relationship had been developed and perfected.
Certainly, all this does not imply our inaction, but an active struggle against the evil (One) – yet, first of all within us, and then outside us… He who attempts to face the evil outside himself before having previously conquered the Evil One inside him (or before he has settled the Good One inside him), such one will inevitably fight against the evil outside him with the evil that will proceed from himself (since he cannot, and he knows not how to do that in another way); and, according to the Holy Fathers, he will become a servant of the Evil One.
Still, how do we fight in the meantime against the evil outside us? Before we have acquired the mind-and-heart prayer, with absolute obedience to the spiritual father! The Fathers have left us no other way! With beauty, that is with love shall we conquer…
May the Name of the Lord be blessed!"
(as recorded by the monastery sisterhood)