Divine Liturgy in Vodoča ( 09.05.2006 )
In the chapel of the monastery of Saint Leontius in Vodoča today Metropolitan Nahum of Strumica celebrated Divine Liturgy.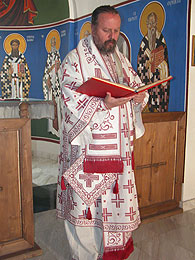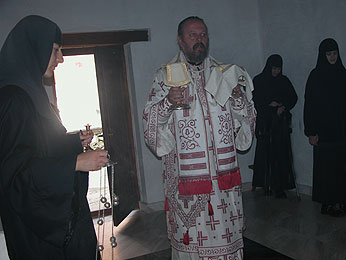 "All my troubles arise in my invisible mind and heart. That is why I need an invisible Saviour, Who knows my heart. If you are troubled by any intrusive fantasy or some passionate movement (malice, wrath, envy, hatred, faintheartedness, self-love, self-will, or demands of the senses), rush and in most painful self-knowledge turn to Christ. If you are clouded by darkness, doubt, or despair, call upon His name wholeheartedly. In Him you will find knowledge, trust, and peace. And if you do not want to endure the constant bothering by the enemy, always in your heart repeat the Jesus prayer, 'Lord Jesus Christ, Son of God, have mercy on me, a sinner'. My prayer being sincere, the Lord always drives off the tempter, who is powerful only through my own deviation. The invisible enemy has the invisible God against him; the powerful one—the Almighty. Therefore at all times turn to Christ and think of Him constantly—and you will save both yourself and the others" (Saint Theophanes the Recluse).